This Pear Brie and Prosciutto Pizza with Honey Drizzle is light, and with a lot of flavor because of the individual ingredients. Also very little work, especially if you use a store-bought pizza crust.
As you can see in the picture; I am not very concerned with the shape of a pizza, especially when I make pizza for just the two of us. The shape does not change the flavor of the pizza. It's the crust and the toppings; my hand-made pizza bottoms usually look 'rustic'.
The title reveals the important ingredients: pear, brie, prosciutto and honey, but is also has caramelized onions and arugula. That's all; the flavors of the ingredients work so well together that you don't need anything else, so spices, no salt. You have sweet caramelized onions, peppery arugula, salty ham, creamy brie cheese and juicy pears.
Of course you can pile up more of everything, but that does not necessary improve the pizza. At the moment it is light, you'll taste the various ingredients and you have a nice meal. Not too much, not a meal that will increase your weight or widen your circumference. This is the way I prefer pizza. Of course, every now and then, I eat loaded pizzas as well, but I'll have to say that lighter pizzas make me happier than those ones overloaded with sauce, cheese and whatever else. Is that just me?
It's not that I don't like the more traditional pizzas; it's more out of self preservation that I try to stay away from them. Once you start eating there is no stopping and when you're done eating, you wonder why, and feel stuffed.
The recipes makes a total of 2 big pizzas or 4 small. I opted for 2 small and the other half is still in my freezer for a next time. Good thing about the recipe is that you can allow the dough to rise, but it is not a necessity. I did the rising part and I allowed it to rise for 4 hours.
Cut the dough in half and form your pizza bottoms, round, oval, square or no particular form. Place the bottoms on a baking sheet; you can first put parchment paper down or dust it with cornmeal; the latter is what I did.
Now the topping; caramelized onion, 1/2 pear per pizza, 1 cup of arugula per pizza, 2 oz. of sliced prosciutto and approx. 5 oz. of brie in total. Select good ingredients; a ripe pear, thinly sliced (no need to peel the pear), good quality prosciutto and a good brie; a brie cheese with flavor, not the cheap brie cheese that is pre-cut/pre-packed from the supermarket. That looks like a brie, but does not taste like a brie. When you put the cheese and the ham on top you will end up with melted cheese and slightly crunchy ham. Finally drizzle with some honey and you will tie that with the sweetness of the pear.
What will it taste like? Bread flavor from the dough; warm fruit but still crunchy; sweetness from the onion, peppery from the arugula mixed with the salty juices from the ham and the creaminess coming from the brie cheese.
Sounds good? Try and let me know what you think.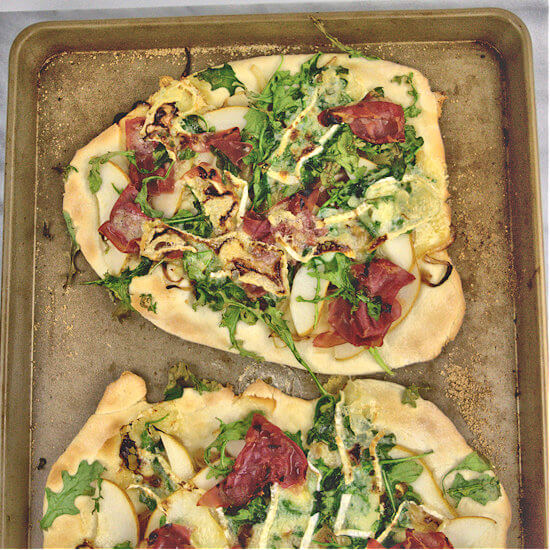 Print Recipe
Pear Brie and Prosciutto Pizza with Honey Drizzle
This Pear Brie and Prosciutto Pizza with Honey Drizzle is light, and with a lot of flavor because of the individual ingredients. Also very little work, especially if you use a store-bought pizza crust.
Ingredients
Pizza Dough
1.5

cups

warm water

1

teaspoon

sugar

1

package

active dry yeast

4

cups

all-purpose flour

1

teaspoon

salt

1/3

cup

olive oil

cornmeal
Pizza Toppings
1

Bartlett Pear

1/2

onion

5

ounces

brie cheese

4

ounces

prosciutto ham

2

cups

arugula

honey
Instructions
First make your pizza dough. Mix water with sugar and add the yeast. Stir and allow to become active in approx. 10 minutes. You will see it frothing of foaming.

In a large bowl mix together flour, salt, olive oil and the yeast mixture. Mix together, using a mixer or your hands; the dough should come clean from the side of the bowls.

Shape the dough into a ball and place it in a oiled bowl, wrap with saran wrap and allow to rise or not. (Up to you, according to Jo Cooks you need to let it rise).

Heat your oven to the highest temperature, around 500 degrees F.

Prepare the toppings.

Cut the onion in thing rings and caramelize these in a little bit of olive oil in a skillet. Do this slowly and you'll have soft sweet onions.

Wash the pear and take the core out (no need to peel it). Slice the pear thinly. Cut the brie in thin slices as well.

Prepare the pizza.

Cut the dough in half and make to pizza bottoms (any form you like) Place the pizza on a baking sheet that you dusted with cornmeal.

Now start 'decorating' the pizza bottom with the toppings. Caramelized onions, pear, arugula, prosciutto, brie.

When all is divided over the two pizza bottoms, drizzle each with little bit of honey.

Slice baking sheet in the oven and bake the pizzas for about 10 minutes.
Nutrition
Calories:
1792
kcal
|
Carbohydrates:
211
g
|
Protein:
50
g
|
Fat:
81
g
|
Saturated Fat:
25
g
|
Cholesterol:
108
mg
|
Sodium:
2008
mg
|
Potassium:
724
mg
|
Fiber:
11
g
|
Sugar:
13
g
|
Vitamin A:
895
IU
|
Vitamin C:
8.9
mg
|
Calcium:
220
mg
|
Iron:
12.9
mg