This Cauliflower Pie with Cumin is a hearty high pie with 3 beautiful layers; meat, cauliflower and cheese sauce. Eat it hot with a green salad
Savory pies, are basically meals in a crust and if you eat them as such, some can be a little heavy. You can also serve them as a warm savory snack. I suggest that you serve this Cauliflower Pie with Cumin in smaller wedges, with some green salad.
Savory pies are a great way to use up left overs, to try flavor combinations and to impress your guests. Most of them can also be eaten cold and warm. This cauliflower pie has a cumin cheese sauce and I suggest to eat this one warm.
The cumin in the cheese sauce comes from a particular Dutch cheese, Leyden cheese. It's a cheese that you like or you don't, there is not really a middle ground here. I am definitely part of the 'like-group'.
Leyden is a cheese named after one of the old university cities in the Netherlands, the city of Leiden. A cute small town, with a center overrun by students, bicycles everywhere. No place to park, but a lovely old city to visit. When I found this recipe in an old cookbook from the Dutch Dairy Council, I thought it was worth sharing as it included this Dutch Gouda-type cheese with cumin, that not everybody knows.
This is how you make the Cauliflower Pie with Cumin
Make a simply pastry dough, transfer dough to a spring form. I used a spring form, so it's easier to get the pie out of the form and the size of the form is 8-inches. This results in a small compact and high pie; the higher the easier it is to see the different layers. Add ground beef, add cauliflower, pour cheese sauce over cauliflower.
Cut the cauliflower into small florets, as that covers the meat better than larger florets. Before you place the pie in the oven, cover it with aluminum foil, so it does not burn, while it does cook the meat and vegetable. Then later in the process cook without the aluminum foil to create a nice brown top and to color the dough to golden caramel.
Open the spring form and cut the pie in wedges. When you serve it hot, the cheese sauce with oooze over the pie layers, showing off.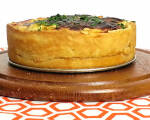 Print Recipe
Cauliflower Pie with Cumin
Cauliflower Pie with Cumin is a hearty high pie with 3 beautiful layers; meat, cauliflower and cheese sauce. Eat it hot with a green salad.
Ingredients
4 1/2

ounces

butter

6

ounces

all-purpose flour

1/2

teaspoon

salt

1/4

cup

ice water

1

cauliflower

8

ounces

ground beef

salt and pepper

1/2

teaspoon

curry powder

1

egg

1/2

shallot

1

ounce

butter

1

ounce

all-purpose flour

1

cup

milk

6

ounces

Leyden cheese

grated

salt and pepper

parsley
Instructions
Start with making the dough. This pie will fit in an 8-inch spring form.

Add flour, butter, and salt in a bowl and until you have a mixture that resembles coarse meal with small sized butter pieces. Drizzle water over mixture, and mix until incorporated. Check after 3 tablespoons if dough holds together; if so, stop adding water, if not add the last tablespoon.Do not overwork dough or pastry will be tough.

Press the dough into a ball and wrap in plastic. Refrigerate for at least 30 minutes.

Clean the cauliflower and cut it is small florets. Cook the cauliflower in water with salt for just 5 minutes. Drain.

Mix the ground beef with salt, pepper, curry powder, finely chopped shallot and the egg.

Make the cheese sauce: melt the butter, add the flower and and stir until smooth. Cook roux over medium-low heat and stir constantly until desired color is reached (light caramel). Gradually add the milk and mix until you have a smooth sauce.

Add cheese and mix until melted. Add more milk if too thick. Flavor with salt and pepper.

Remove the dough from the fridge and roll out to a 10-inch circle. This should cover the bottom and the sides of the spring form.

Cover the bottom with the ground beef mixture. Divide the cauliflower on top of the meat and finish with the cheese sauce.

Cover the form with aluminum foil and place in a preheated oven of 400 degrees F.

After 45 minutes remove the aluminum foil and bake another 30 minutes until you have a dark brown top and a caramel crust.

Remove spring from, sprinkle with chopped parsley and serve.
Nutrition
Calories:
867
kcal
|
Carbohydrates:
49
g
|
Protein:
31
g
|
Fat:
61
g
|
Saturated Fat:
34
g
|
Cholesterol:
215
mg
|
Sodium:
958
mg
|
Potassium:
776
mg
|
Fiber:
4
g
|
Sugar:
6
g
|
Vitamin A:
1560
IU
|
Vitamin C:
69.5
mg
|
Calcium:
438
mg
|
Iron:
4.6
mg