This time of year is soup time, but here in Woodstock, GA we have approx. 70 degrees during the day, so not so much need for soup, but I am going for it anyway as I like, no love soup, like this Orange and Yellow Pepper Soup. A week ago we had a night temperatures of 10 degrees and before week's end we have a 80 degrees difference and walking around in T-shirts again. Weather in Georgia can be compared to a yoyo and I learned quickly, that if you don't like the weather in Georgia, just wait a few minutes.
So no winter today, but still making soup, a Orange and Yellow Pepper Soup; colorful, flavorful, and if you're more North than we are and do experience cold; this soup will warm you up a little, not only because of the temperature of the soup, but because of the peppers. If you really like it hot, add some hot peppers, next to the bell peppers.
As you may have picked up from my recipes, I like contrasting textures as it makes eating very interesting, in my humble opinion. For this soup I have added some wild rice; very dark, very chewy and very contrasting in this Orange and Yellow Pepper Soup. Contrasting in color, flavor and …. you got it …in texture. More good stuff, if you like, vegan, gluten-free, high fiber, high vitamin A, C and B vitamins, low fat and still yummy.
How to go about making this soup? I started with cooking the rice, separate from the soup. Wild rice takes a while to cook and when you do that in the soup, you'll be wasting nutrients by cooking the soup way longer than necessary. So start cooking the rice while you prepare the other ingredients of the soup. Peeling, cleaning and chopping the peppers, potato, onion and garlic. Saute just a little in some olive oil, add the vegetable broth and cook until vegetables are tender. You can use chicken broth if you prefer; home-made or store-bought.
When all is tender, place the mixture in a blender (in portions) and process until smooth. I used a immersion blender instead. It is a whole lot less work and less cleaning up afterwards. Taste the soup again and add some salt and pepper if needed.
Divide the soup over 4 bowls and then divide the rice over the 4 bowls. Finish it with a sprinkle or swirl of olive oil and enjoy.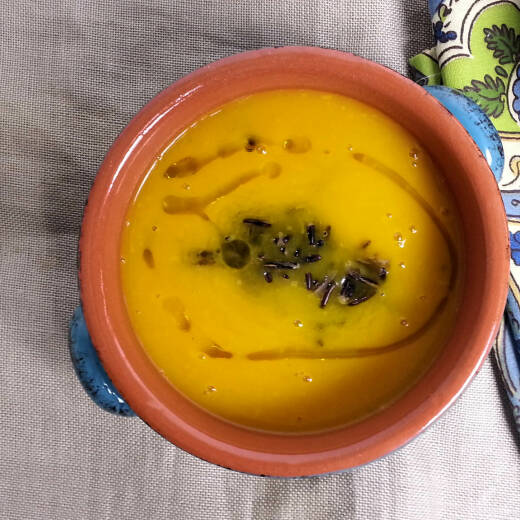 Print Recipe
Orange and Yellow Pepper Soup
Ingredients
1/4

cup

wild rice

1

tablespoon

olive oil

3

whole

yellow bell peppers

3

whole

orange bell peppers

1

clove

garlic

1

whole

sweet onion

8

ounces

sweet potato

2

pounds

vegetable broth

salt and pepper
Instructions
Cook the rice according to the directions on the package and keep warm.

Peel the sweet potato and dice it.

Wash the bell peppers, remove the core and dice them as well.

Peel the onion and chop it fine, peel the garlic and mince it.

Heat the olive oil in a Dutch. Add the bell peppers, onion and garlic and saute the vegetables lightly.

Add the sweet potato and the broth and salt and pepper.

Cover and allow to simmer for approx. 30 minutes.

Place soup in blender and process until smooth.

Add salt and pepper if needed and divide soup over 4 bowls.

Scoop wild rice in soup and sprinkle with olive oil.