When life gives you lemons, I mean when life gives you too much work, make soup, lots of soup, like this Tomato Chicken Pasta Soup. Don't get me wrong I love working, I love working hard, but the holiday season is for me, for us, sometimes too busy. That's a good thing and a bad thing. The good thing is that is great for business, the bad thing is that there is hardly time for anything else and the fact that I have hardly time to pay attention to food is the worst part. So when time is in short supply, I rely on some extra work I did during the summer time – making stock. For the Tomato Chicken Pasta Soup I used chicken and tomato stock and made during summer.
Without giving you a true recipe of my stocks, this is what I do, when making stock. The ingredients of my Chicken stock are: carrots, onion, celery, spring onions, bay leaves, thyme, parsley, peppercorns, chicken breast with skin and bones. I add a little water as I can, but make sure the chicken is just submerged in water. This is to create a more concentrated stock, the more flavor the better, as you can always dilute stock, but not make it more concentrated. Cook it, until everything is thoroughly 'done', and then turn off the heat, but leave it in the pot for a while; allow the water to soak up the flavors and allow it to cool down at the same time. I prefer to work with chicken breast (with skin and bones) as the skin and bones add flavor. They also add fat, but my advice would be to not scoop the fat off the broth; it is in my humble opinion a waste of flavor and in the grand scheme of the final soup you'll be making the fat doesn't amount to much.
As far as tomato stock or tomato soup is concerned; the same principle applies. Little water and a lot of tomatoes. During the summer time, I buy (and eat) a lot of tomatoes. Eat what is in season, not only because of availability, and cost, but because of flavor. Most tomatoes you buy outside summer time are relatively tasteless, so when you want to have a flavorful tomato stock/soup, make it during the summer.
So I buy pounds and pounds of tomatoes, wash them, quarter them and put them in a large pot. I don't add water, as the water clinging to the tomatoes during washing is enough to avoid the tomatoes burning to the bottom of the pot. Simmer the tomatoes for let's say 30-45 minutes. Cool it down, just a little and then pour the stock/soup through a sieve and work it until there is nothing left in the sieve, but seeds and skin- this is the labor-intensive part of making tomato soup, but it is worth it.
Now, during a period of no-time-available, I can count on my stock of stocks and make this Tomato Chicken Pasta Soup, that needs little work because the flavor comes from the stocks and the fresh ingredients; red bell pepper, celery, onion, parsley. I added chicken sausage and Zucca Pasta to give the soup a little more body and in a record time we had a meal.
When you make soup ahead of time and want to freeze part of it, only add the pasta to the portion you're gonna eat. If you add the pasta to all of it and freeze it, you may end up with soggy and mushy pasta once you re-heat it.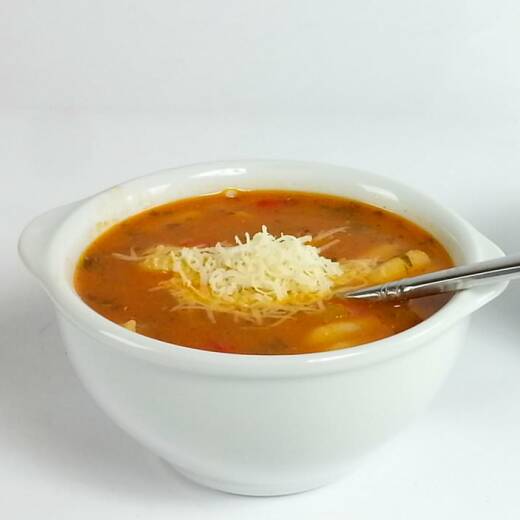 Print Recipe
Tomato Chicken Pasta Soup
Ingredients
8

ounces

chicken sausage

1

tablespoon

olive oil

1

whole

red bell pepper

1

whole

sweet onion

3

stalks

celery

2

cups

chicken stock

4

cups

tomato stock

2

ounces

zucca pasta

1

tablespoon

balsamic vinegar

salt and pepper

5

sprigs

Italian parsley

2

ounces

Just Jack cheese
Instructions
Heat the olive oil in a large pot, remove the uncooked chicken sausage from the casings and add it to the hot oil. Using a large wooden spoon and continually break up the chicken sausage as it cooks, ending up in small pieces.

Clean the red bell pepper, the celery and the sweet onion and cut each in small pieces and add to the pot.

Add your chicken stock and tomato stock and bring to a boil.

Add the Zucca Pasta and cook according to the direction on the package.

Add balsamic vinegar and salt and pepper.

Cut the Italian parsley fine and add at the last moment.

Divide soup over bowls or plates, grate cheese and place on top of soup.