The idea of making a coconut milk risotto was on my to-do-list for a while and now I can finally take it off as Coconut Risotto with Cranberries and Arugula is born. I am very familiar with a sweet (coconut milk) and spicy (e.g. curry) combination, so this time I wanted to make it sweet and sweet (coconut milk and cranberries) combination, and played with the idea of a dessert, something like a rice pudding, but decided against it and tried a combination with Arugula. It came out very nice, if I may say so, and the color combination is pretty as well. For those of you who are interested, this recipe is dairy free, gluten free, as well as vegan.
I am not gravitating towards any special diet or 'food lifestyle; my attitude towards food is rather simple; enjoy and embrace food, but don't overdo it, as far as intake is concerned. I like to go crazy every now and then with regard to creativity (will need to share more of that).  I love an occasional burger; snack if I want to, but at the same time, keep my weight in check. Do I think I need to lose weight; yes and no. My weight/height ratio is within the well-known parameters, even though I wouldn't mind losing a few pound (I prefer to be a little skinny), but I think I am at my 'ideal weight'. I am healthy (as far as I know), I have plenty of energy and am not hungry at odd times of the day. My weight changes a pound up and a pound down, so is basically in balance. It's not that I can eat whatever I want, certainly not, so when I eat a little more than I should, or eat a little heavier than I should, the next few days I am a little harder on myself and my weight will go back to where it was and I feel less 'full'/'heavy', and feel my normal happy in my skin again.
Why am I telling you all this? The fact that this Coconut Risotto with Cranberries and Arugula recipe is diary free, gluten free is not a deliberate choice, it's in all honesty, a finding after the facts.
Let's go back to the recipe and its easy preparation:
When making risotto, I prefer to use Carnaroli Rice, called the King of Rice, but of course you can also use Arborio rice, which is more readily available. For the coconut milk, I used the unsweetened one and prefer to use the lite version (one of my ways to cut back on calories, but only if I can reach the same flavor as the non-lite version). No cheese is this risotto recipe; the coconut milk was enough to making it creamy and kept it all together. I love dried cranberries and in this recipe, I soaked them in the coconut milk. The result was that the coconut milk was slightly colored, but it did give the dish the little more cranberry flavor than just from the dried cranberries. The addition of the argula, just stirred into the risotto, so barely wilted, add a slight bitterness and a slight crunch. I hope you will try this one, I know I will.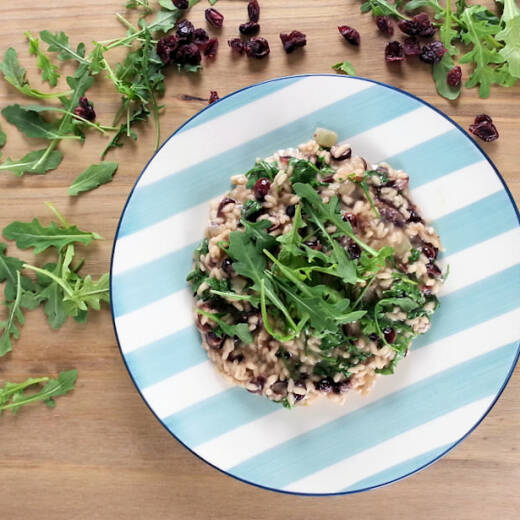 Print Recipe
Coconut Risotto with Cranberries and Arugula
Ingredients
1/2

onion

1/2

tablespoon

olive oil

1/2

cup

white wine

1

cup

carnaroli rice

2

cups

vegetable broth

1

cup

coconut milk

1

cup

dried cranberries

salt and pepper

1

cup

arugula
Instructions
Chop the onion fine.

Warm the broth. Add the cranberries to the coconut milk and warm as well.

Heat the oil in a Dutch oven and add the chopped onion. Cook the onion until soft and translucent.

Add the rice and stir until thoroughly coated in oil.

Add the wine and allow this to be absorbed by the rice.

Add the broth to the rice and cook over medium heat. Stir occasionally until all the stock is absorbed.

Add the coconut milk with the cranberries and allow this to absorb as well.

When rice is done, it is creamy and just tender. Add salt and pepper to taste.

Add arugula and mix and serve immediately.