Mediterranean Chicken Couscous is a healthy one-pot dish that has fruit, vegetables, meat, pasta, color, flavor, little fat and is very tasty.
This Mediterranean Chicken Couscous is one of my one-pot go to dishes. I love it because it has a little bit of everything, without being heavy. It has fruit (lemon, cranberries, orange), vegetables (onion, bell peppers, garlic), meat (chicken), and pasta (couscous) and very little fat. It is flavorful (curry, cumin, ginger, cinnamon, coriander, salt & pepper) and colorful.
The first time I had a combination of cumin, coriander and cinnamon with chicken or may be even fish was on one of my trips the northern Africa. It was Morocco and Tunisia, many years ago. I think I mentioned before that I trained sales reps. and usually spent a week or more in a country. My task was to teach sales rep about nutrition and the value of the company's products. I accompanied them in their daily work, visiting pediatrician and talk about the newest things in pediatric nutritional. When you are in a country for a number of days, you often go out to dinner, with the sales reps or with their bosses.
I specifically remember one night we went out do diner with the head of the company and he asked me "Marinka, where would you like to go to tonight? Would you like a 'grand or petit spectacle". I had no idea what it meant, but curious as I was, I opted for the 'grand spectacle'. I remember that the restaurant was an interesting place, scarcely furnished with local fabrics, not much light and I had the feeling I was in a Berber tent. The 'grand spectacle? …. was a belly dancing group. I honestly don't remember what we ate, but I do know it was served in several tangines. Food in Morocco is very tasteful, colorful and the spices the Moroccans use in their cooking, was something I enjoyed very much and started to use in my own cooking.
I should have bought one of the earthenware tangines, they are so decorative. So, if you have a tangine, I would suggest to try to use it, preparing this Mediterranean Chicken Couscous; it would really make a nice local (Moroccan that is) statement when you bring it to the table. I know that it's on my list to buy.
The preparation of this Mediterranean Chicken Couscous dish is relatively simple. Cut chicken, onion, bell pepper, and herbs. Cook chicken and keep warm. Cook vegetables, add juice (broth and orange juice and cranberries) and then add the couscous and allow it to absorb the liquid. Add herbs and salt & pepper and serve with fresh lemon. A little bit of lemon juice is a nice addition.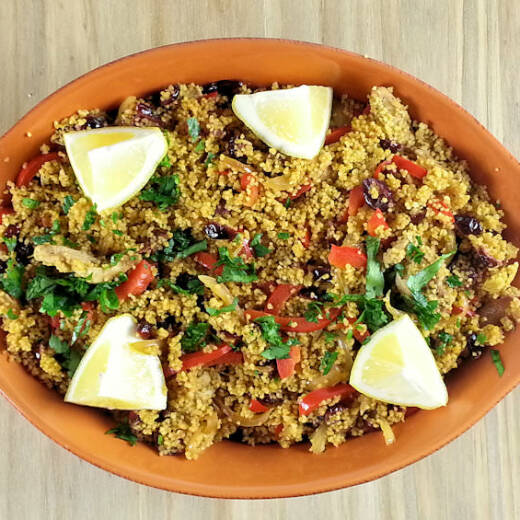 Print Recipe
Mediterranean Chicken Couscous
Mediterranean Chicken Couscous is a healthy one-pot dish that has fruit, vegetables, meat, grains, color, flavor, little fat and is filling.
Ingredients
8

ounces

chicken breast

boneless and skinless

1/2

teaspoon

coriander

1/2

teaspoon

salt

1/4

teaspoon

ginger

1/4

teaspoon

oregano

1/4

teaspoon

cinnamon

1/2

teaspoon

cumin

1/4

teaspoon

black pepper

2

tablespoons

olive oil

1

cup

orange juice

3

cups

chicken broth

1

cup

dried cranberries

1

teaspoon

curry powder

1

garlic

1/2

onion

1

whole

red bell pepper

1

cup

couscous

basil

julienne-cut

cilantro leaves

chopped

1

lemon

quartered

salt and pepper
Instructions
Mix salt and spices, coriander thru black pepper.

Cut chicken breast in strips and rub spice mix into chicken.

Heat 1 tablespoon of olive oil in a skillet and add the chicken. Cook until brown and just done. Take chicken out of the skillet and keep warm.

Bring orange juice and chicken broth to a boil. Add the cranberries. Remove from heat, add curry powder and let stand for approx 10 minutes.

Chop onion fine, cut bell pepper in strips, roughly the size of the chicken breast and mince the garlic.

Heat 1 tablespoon in same skillet and add garlic, onion, and bell pepper.

Saute for a couple of minutes. Vegetables need to remain crunchy. Add orange juice/broth mixture and bring to a boil.

Add couscous. Turn off heat and cover. Allow the couscous to absorb the liquids, approx. 5-10 minutes.

Add chicken and salt and pepper to taste.

Scoop couscous in serving dish, sprinkle with basil and cilantro and add quartered lemon.
Nutrition
Calories:
874
kcal
|
Carbohydrates:
140
g
|
Protein:
38
g
|
Fat:
19
g
|
Saturated Fat:
2
g
|
Cholesterol:
72
mg
|
Sodium:
2019
mg
|
Potassium:
1232
mg
|
Fiber:
10
g
|
Sugar:
52
g
|
Vitamin A:
280
IU
|
Vitamin C:
119.8
mg
|
Calcium:
88
mg
|
Iron:
3.7
mg