I see a lot of Cauliflower Rice recipes, and the Cauliflower rice is used as a substitute for rice of couscous, hence the name cauliflower rice or cauliflower couscous, I thought, how about using it as a vegetable (this must be a surprise – I hear you). Cutting it like rice, but using it in combination with a grain, and here we are with Freekeh with Cauliflower Rice. The looks of the dish is not particularly stunning, but there's a lot going in, as far as flavor and texture is concerned. The dish are very rewarding, satisfying, and interesting.
I am not a person who is the first in trying new things, I am usually late, not because I don't dare or want to try, but simply because my days are very busy and finding things to eat that I never had before, takes a little bit more time than I have. So when I stumbled on freekeh, I bought it, I tried it and I liked it; it's crunchy, nutty, and high fiber, so you know you're eating it and it fills you up.
Freekeh is one of the superfoods, an 'old' grain that came back in fashion a couple of years ago, but I don't think became as popular as quinoa. May be because it is not as pretty as quinoa, or may be because it is a wheat and thus contains gluten, but it is nutritionally more powerful; more protein, more fiber, lower glycemic index . So for everybody who can and wants to eat gluten, try freekeh as an alternative to farro, bulgur, it is worth it.
For this dish, I chopped onion and red bell pepper; cooked them a little bit, added the cauliflower rice, cooked that a little bit, not too much, the cauliflower should not become mushy; it should stay a little crunchy. Then I added the cooked freekeh and added a flavor powerhouse, Sultan Papadopoulus Sea Salt, one of Beautiful Briny Sea's artisanal products. A recipe with 5 ingredients, 6 if you include the olive oil, producing millions of flavors and textures. I like it. curious to hear what you think of freekeh.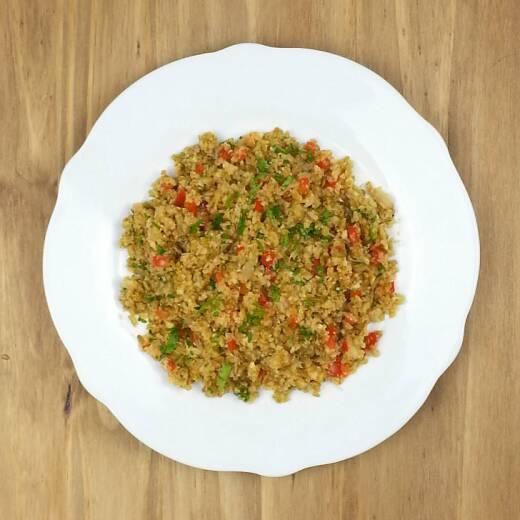 Print Recipe
Freekeh with Cauliflower Rice
Ingredients
1

cup

Greenwheat Freekeh

1

head

cauliflower

1

tablespoon

olive oil

1

whole

onion

chopped

1

whole

red bell pepper

chopped

4

teaspoons

Sultan Papadopoulos Salt

parsley

salt and pepper

optional
Instructions
Cook the freekeh according to the direction on the packaging and drain.

Cut the cauliflower in florettes and pulsing these in a food processor until you have a rice-like or couscous-like texture.

Heat the olive oil in a skillet and add the chopped onions and red bell pepper. Cook this for just a minute and then add the cauliflower. Cover and cook for approx. 8 minutes.

Add the cooked freekeh to the skillet and mix together and warm.

Season with Sultan Papadopoulos Salt and sprinkle with parsley.