Catfish is such a regular guest on dinner tables here in the South, and is extremely versatile. This quick recipe calls for a simple spread with herbs and Parmigiano Reggiano that covers the Catfish fillets, which are then placed under the broiler to come out brown, hot, steaming and tender after approx. 20 minutes.
Oh boy, do I love catfish; I know that if you are from the South that may sound odd, but for me, coming from a country that is bordering the North Sea, a warm water fish is so much better, so much less fishy than the cold water fishes I used to eat. I can eat Catfish on the grill every week, if I have to and funny enough, for some reason, I am not crazy about fish during the winter time, when our grill is inactive.
It may have to do with the fact that my mother has an aversion to 'cooking smells' in her house. Oh she cooks and she cooks well, but after dinner, all doors and windows are opened so we can get rid of all the food aromas that are lingering. Mom, you are crazy, but I love you. So we're all freezing our …. off, or we help her with the cleaning up, making coffee etc. I have to say that I am also not happy when I wake up in the morning and I leaving the bedroom, being met with the cooking fumes of the day before. So may be that's why I prefer cooking fish outside on the grill.
Earlier this week, when Spring announced itself, it was warm during the day, the temperature dipped quickly at night; I decided to be less rigid and loosen up and treated myself on a Catfish with Parmesan and Herb Crust.
This time, in the oven, under the broiler, with a little simple spread of sour cream, low fat mayo, Parmigianno Reggiano, and herbs.
Place the fish fillet on a baking dish covered with parchment paper, and sprinkle some cheese on the spread. Slide the baking dish under a broiler set to high for 5 minutes and then set to low for the next 15-20 minutes. Place it relatively close to the heating elements, like 4-6 inches, but do not overcook. You'll end up with a nicely light brown colored fish that is flaky and moist.
Plate your Catfish with Parmesan and Herb Crust.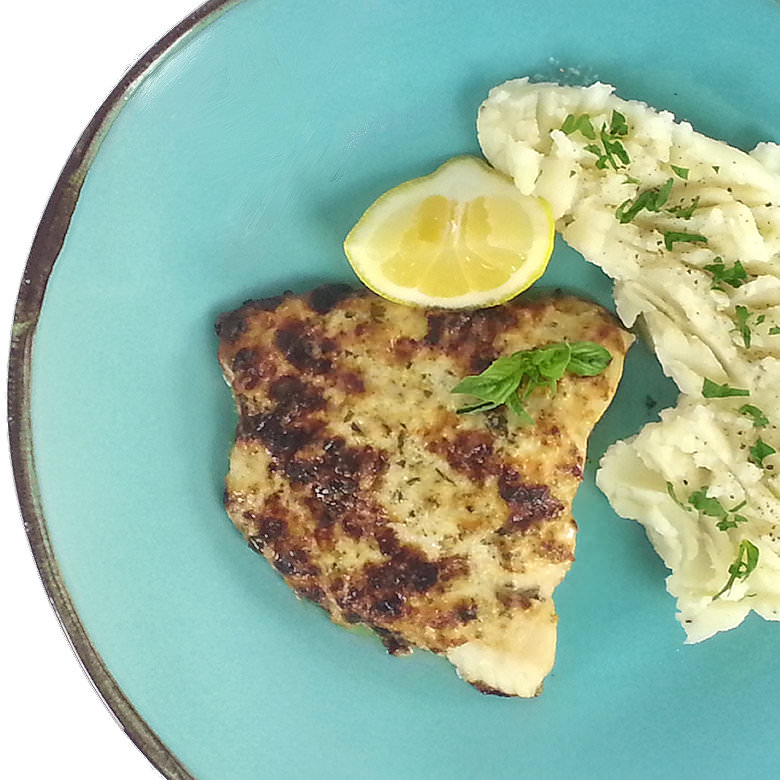 Print Recipe
Catfish with Parmesan and Herb Crust
Ingredients
2

catfish fillets

1/4

cup

Parmigiano Reggiano cheese

grated

1

tablespoon

low fat mayonnaise

1

tablespoon

low fat sour cream

1

tablespoon

butter

melted

1

tablespoon

fresh basil

chopped

1/4

teaspoon

tarragon

1/2

tablespoon

lemon juice

salt and pepper

2

tablespoons

Parmigiano Reggiano cheese

grated
Instructions
Cover a baking sheet with parchment paper and heat the broiler to high.

Salt and pepper your fish fillets.

Combine 1/4 cup cheese with mayonnaise, sour cream, butter, basil, tarragon and lemon juice.

Place fish on baking sheet and cover with cheese-herb spread. Sprinkle with remaining grated cheese.

Place baking sheet under broiler and bake for 5 minutes.

Lower the temperature of the broiler and bake another 15-20 minutes or until the fish becomes flaky.

Serve fish with wedge of lemon.