This Bok Choy Cabbage Soup with Rice Noodles is so flavorful because of all the fresh ingredients and I only added soy sauce and salt and pepper to enhance the flavors. Soup has unlimited possibilities, you can go totally vegetable, totally beef, chicken of fish or whatever other animal protein you'd like or would like to avoid. For this particular soup I used chicken broth, because I had that handy, but there is no real need for it, vegetable broth works as well and you'll have a delicious vegetarian/vegan soup.
Any soup will warm you up, but with 85 degrees outside today, here in GA, no need for that right. The soup is light and temperatures are dropping somewhat during the evening, I decided to make it anyway – just love soup.
I saw these cute baby bok choy in the grocery store and felt the need to give them a new home. After picking up the Napa cabbage, a stir-fry recipe was coming together in my head, but I decided to go for a soup with some Asian influence, rice noodles and soy sauce instead. Rice noodles always remind me of jelly fish tentacles, they're like flexible glass. I cooked the rice noodles in water, to avoid that they absorb any color of the broth and become less transparent.
When the ingredients are warm and just cooked 'al dente', in absence of a better word, divide the soup over 2 bowls and you can add a sprinkle of toasted sesame seeds if you like.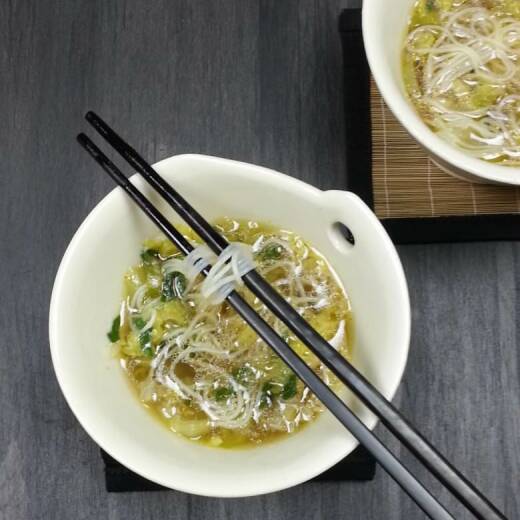 Print Recipe
Bok Choy Cabbage Soup with Rice Noodles
Ingredients
1

tablespoon

olive oil

3

whole

green onions

1

clove

garlic

minced

1

tablespoon

minced ginger

1

tablespoon

soy sauce

4

cups

chicken broth

3

heads

baby bok choy

1/2

head

Napa cabbage

2

ounces

rice noodles

salt and pepper

1

tablespoon

sesame seeds

optional
Instructions
Trim the ends off the green onions, as well as the dark tough dark green part and chop the light green stems.

Cut the end off the stems of the bok choy and then cut the stems and the leaves in strips.

Cut the end off the Napa cabbage and shred the top of the leaves of the cabbage, until you have 2 cups of shredded cabbage.

Put the sesame seeds in a skillet and toast on medium heat until fragrant and brown, then cool (optional).

In a Dutch oven, heat olive oil. Add the green onions, ginger and garlic. Cook and stir for approx. 2-3 minutes, until the onions are slightly soft, and the garlic and ginger fill your kitchen.

Add the chicken broth and soy sauce bring to a boil.

Add the bok choy and the cabbage to the broth and cook for approx. 5 minutes.

Cook the rice noodles in water according to the directions on the package and drain.

Add rice noodles to soup and add salt and pepper if needed.

Divide over 2 bowls and sprinkle with sesame seeds (if desired).