Sweet peppers filled to the rim with a deliciously creamy mix of potatoes and cheese. Mashed potatoes and cheese is an addictive combination and served in a colorful sweet pepper looks a lot better than just a heap of mashed potatoes. You will only need to cook these Sweet Peppers Filled with Cheese-Potato Mash for about 10-15 minutes and you have some additional crunch from the peppers.
I love mashed potatoes, but I am not eating it very often. I think it is kind of like a love-hate relationship. On the one hand it is easy to make and tastes delicious. On the other hand it is something without any texture, relatively boring on a plate and one (me that is) can easily eat too much. Something I usually regret in the aftermath.
To overcome this dilemma, I made mashed potatoes with cheese and put that in small sweet peppers; Sweet Peppers Filled with Cheese-Potato Mash. All you need to do is make mashed potatoes, add some sharp cheddar and put this in small sweet peppers, or large bell peppers. Place this in a 400 degrees F oven for a short time and cook for 15-25 minutes, depending on the size of the pepper and how soft you want the pepper to become.
Before I go any further, I need to set something straight. Sweet peppers or bell peppers are technically fruits, so this is a potato-fruit dish. I usually consider peppers to be a vegetable, weird right.
What I like about this very simple dish, is that it will add some color to your plate, some crunch and some additional vegetables, oh no, fruits. As far as the ingredients is concerned; the russet potato is my favorite for mashed potatoes. I added an aged cheddar cheese as that adds significant flavor. Many other cheese may add the creaminess or stringiness, but I like flavor over cream and strings. As you can see in the photos, I filled small sweet peppers over large bell peppers. Two reason for that:
More small pieces on your plate, makes for prettier presentation than just 1 large bell or even half a bell pepper.
Small peppers need less time in the oven. The mashed potatoes go in warm, so not much time needed to give the raw peppers, just a little softness, without making them mushy.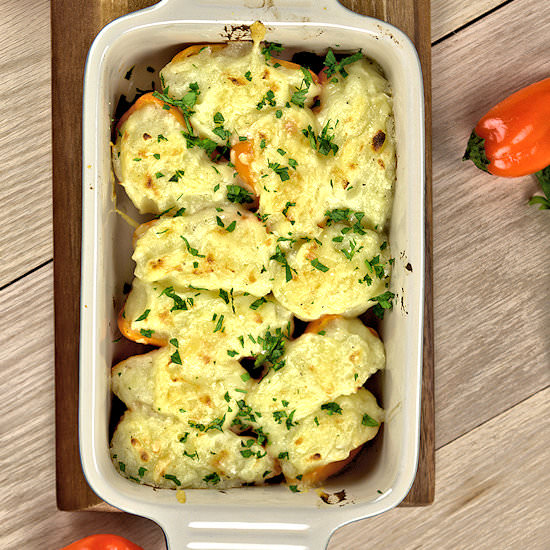 Print Recipe
Sweet Peppers Filled with Cheese-Potato Mash
Sweet Peppers Filled with Cheese-Potato Mash -Vegetable filled with potatoes, mashed potatoes and cheese actually. Sweet peppers filled to the rim with a deliciously creamy mix of potatoes and cheese.
Ingredients
5-6

sweet peppers

1

russet potato

1/4

cup

milk

2

ounces

cheddar cheese

nutmeg

salt and pepper

parsley
Instructions
Heat oven to 400 degrees F.

Cut the pepper in half, lengthwise. Core the peppers. Rinse them and place them upside down on some kitchen towels, to dry.

Peel the potato, cut it in small pieces and cook until done.

Grate the cheddar cheese and chop the parsley.

Mash the potato, add some milk until it becomes a smooth mixture.

Mix in the cheddar cheese and allow it to melt (keep some cheese to cover at the end). Add some milk if needed.

Add salt, pepper and nutmeg (optional).

Fill the sweet pepper halves with the mashed potatoes.

Place peppers in a dish, poor some water in the dish and cover mashed potatoes with grated cheese.

Place dish in oven and bake approx. 10-15 minutes.

Sprinkle with parsley and serve.
Nutrition
Calories:
309
kcal
|
Carbohydrates:
39
g
|
Protein:
13
g
|
Fat:
11
g
|
Saturated Fat:
6
g
|
Cholesterol:
32
mg
|
Sodium:
206
mg
|
Potassium:
1139
mg
|
Fiber:
7
g
|
Sugar:
14
g
|
Vitamin A:
9650
IU
|
Vitamin C:
386
mg
|
Calcium:
274
mg
|
Iron:
2.4
mg