I haven't fried an egg for ages? You wonder why? My husband doesn't like the smell of fried eggs in the morning, so they kind of fell of the radar. So yesterday, for some odd reason, I just wanted to fry an egg, but I had already decided what to make for dinner and egg was not part of it. Simple enough to fix, just combine the two – Spinach Risotto with Fried Egg. The fried egg part was just for me.
When I take stock of my favorite recipes and ingredients, I believe I have to conclude that grains may be the most favorite; wheat, rice, farro, corn, freekah, barley, oats, quinoa etc. and the reason I love the grains so much is the infinite possibilities we have to use enjoy them. Cooked, baked, fried, raw, cold, warm, with meat, fish, chicken, egg, vegetables, dairy, fruits, nuts, do I need to go on. Many have wholegrain options and those are health-wise the preferred ones for most of us.
This Spinach Risotto with Fried Egg recipe is simple and colorful and a little bit different to many risotto recipes, because of the addition of ricotta; it add a grainy texture to the dish. The fried egg on top, that was an afterthought, but is a satisfying finish. This may be an alternative to creamed spinach ?
I used my favorite Italian Carnaroli rice, then I used whole milk ricotta instead of skimmed to add a little more creaminess and fresh spinach. A little sprinkle of olive oil at the end and if you like even more creaminess fold some butter into the risotto.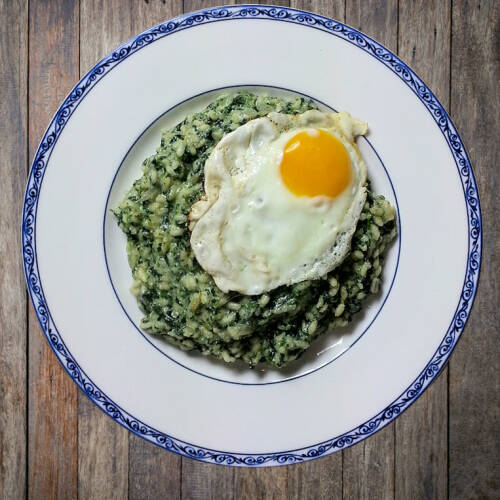 Print Recipe
Spinach Risotto with Fried Egg
A risotto recipe with finely chopped spinach and ricotta that is smooth and slightly grainy. The egg is the icing on the top.
Ingredients
1/2

onion

1/4

cup

white wine

3/4

cup

carnaroli or arborio rice

2

cups

vegetable or chicken broth

1

bunch

spinach

8

ounces

ricotta cheese

Parmigiano Reggiano cheese

salt and pepper

1 1/2

tablespoons

olive oil

2

whole

eggs
Instructions
Chop the onion fine. Wash the spinach, and grate the Parmigiano Reggiano cheese.

Heat 1/2 tablespoon of olive oil in a Dutch oven and add the chopped onion. Cook the onion until soft and translucent. Add the rice and stir until thoroughly coated in oil. Add the wine and allow this to be absorbed by the rice.

Add the broth to the rice and cook over medium heat. Stir occasionally until all the stock is absorbed.

Cook the spinach in a separate pot with 1/3 cup of water and cook just a few minutes. When the spinach is soft, remove it from the heat and puree it in a food processor or just use a knife to cut is as fine as possible.

When the rice is about done, add the spinach and cook a few more minutes.

Add the ricotta to the rice and stir until uniform and creamy. Add salt and pepper to taste.

Fry the eggs, sunny side up.

Plate the risotto, sprinkle with olive oil and put fried egg on top.
Nutrition
Calories:
631
kcal
|
Carbohydrates:
71
g
|
Protein:
23
g
|
Fat:
26
g
|
Saturated Fat:
11
g
|
Polyunsaturated Fat:
2
g
|
Monounsaturated Fat:
12
g
|
Cholesterol:
62
mg
|
Sodium:
1177
mg
|
Potassium:
1210
mg
|
Fiber:
5
g
|
Sugar:
5
g
|
Vitamin A:
16952
IU
|
Vitamin C:
50
mg
|
Calcium:
432
mg
|
Iron:
6
mg