For a large part of my life, my lunches have been pretty boring, I'm not complaining, it is merely a matter of fact. Traditional lunches (and breakfast) in my country (The Netherlands) are a sandwich with deli meat or cheese, a glass of milk, and a cup of coffee or tea. Variation came from the type of bread and the meat and cheese, but that was about it. That's all I knew when I was growing up; a Cheddar Popover Sandwich with Avocado and Fried Egg was not in the picture.
My first job was with a small company, outside a major city, no restaurants nearby. Since I came to work with public transport, my lunches consisted of what I brought from home, which was that same old sandwich. Later when I got a job in a large company, lunch started to look much better. Lunch facilities were available in the company's restaurant. There were a few restaurants near by the office complex, but they were really sit-down restaurants or diners. Later in my career, the headquarters moved to another facility and we had better access and more choice with regard to lunch options.
Things have changed over the last 10 years and may still change (I haven't been home for a while). There are more lunch options to select from and people's habits are changing; I may need to say that the Dutch eating culture is changing. In the past, you saw everybody eating lunch at their desk. Sandwiches you made at home, early in the morning, wrapped in a plastic or paper bag or in a small lunch box. Now, it will be the 'old guard' who's still eating like this, the men and women who don't accept change so easily or who are very comfortable eating their lunch made at home.
As for myself; I prefer to eat home, because I can decide what I eat and how much. Eating out on a daily basis would be not by my choice. I think I would grow more than I need to – and I don't mean in length :-). I guess it is hard to break old habits. It would also mean very time consuming, as I live and work outside the city.
Yesterday, in absence of my Valentine, I celebrated the day of love with a Cheddar Popover Sandwich with Avocado and Fried Egg. Oh so delicious. The popovers have shredded Cheddar on the top, then cut open and filled with sliced avocado and a fried egg. The crunch from the popover, freshly sliced avocado with the warm oozing yolk of the fried egg, mmmmm; I have to do this more often.
As you can see in the picture, the popovers did not get very high; the weight of the cheddar cheese is keeping the rise in check. Which is fine for this sandwich; I was more interested in the addition of the cheddar than in the height of the popover. More eggs are required to get a height similar to a regular popover and I didn't want more eggs to add to a sandwich with fried eggs.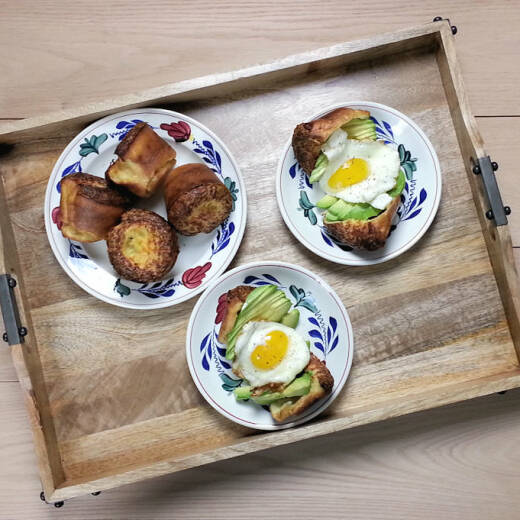 Print Recipe
Cheddar Popover Sandwich with Avocado and Fried Egg
Break with your traditional lunch and treat yourself on a Cheddar Popover Sandwich with Avocado and Fried Egg. Warm and delicious.
Ingredients
3/4

tablespoon

melted butter

3/4

cup

flour

1/2

teaspoon

salt

2

large eggs

3/4

cup

milk

2

ounces

sharp cheddar cheese

3

whole

avocado

1

teaspoon

butter

6

eggs

salt and pepper
Instructions
Preheat the oven to 425 degrees F. and generously grease a popover pan with butter.

Shred cheddar cheese.

Place the popover pan in the oven for 2 minutes to preheat.

Whisk flour with salt, eggs, milk and melted butter until smooth.

Divide the batter over the popover pans, each cup will be about half full.

Divide shredded cheese over the 6 popovers and place pan in the oven.

Bake the popovers for 25 minutes.

Meanwhile, clean the avocados, slice in half, discard the pit and cut each half in thin slices.

Five minutes before the end of the baking time of the popovers, break the eggs in a skillet and cook them sunny side up on medium high temperature.

Take popovers out of the oven, cut them in half, place avocado slices and popover and top with fried egg.

Sprinkle with salt and pepper and enjoy.
Nutrition
Calories:
1130
kcal
|
Carbohydrates:
67
g
|
Protein:
42
g
|
Fat:
80
g
|
Saturated Fat:
23
g
|
Cholesterol:
710
mg
|
Sodium:
1124
mg
|
Potassium:
1903
mg
|
Fiber:
21
g
|
Sugar:
7
g
|
Vitamin A:
2015
IU
|
Vitamin C:
30.1
mg
|
Calcium:
450
mg
|
Iron:
7.1
mg