Bamboo Rice Ring with Chicken Tomato Ragu is a great example of how to use sticky rice. The color and flavor combination is just one example. There are many more to be made with the wonderful green rice.
The Bamboo Rice is so incredibly vibrant in color that it is a wonderful ingredient to work with. It also has a slightly different flavor than plain white rice. According to the manufacturer is has a slight herbal tea flavor, coming from the bamboo extract. Tell me what you think? Describing a flavor is almost a science in itself.
A couple of weeks ago I saw a picture of a dish with Bamboo Rice, I think it was from The Lemon Apron. I realized that I had this rice in my pantry and was dying to try it out.
Bamboo Rice reminds me of the tropics and the jungle, and my closest encounter with the jungle was in Indonesia. Let me tell you about this jungle, but promise me, you won't laugh.
My trip to Indonesia
Years ago, I accompanied a foreign State Official on a tour of our factory in Indonesia. The company I worked for at that time, wanted to source products from their plant in Indonesia. The person who I was accompanying was a very funny, relatively young Professor of Nutrition and of something else, I don't remember exactly. He was invited to Indonesia to evaluate the production process etc.
On the program were the necessary visits to the factory, labs etc., meetings with company officials, fancy dinners and a few days of traveling on the island of Java. I was the lucky one going with him and a few other essential persons were tagging along as well. It was close to a traveling circus.
What did we see and do?
Saw the touristic places, drank coconut water directly from a coconut on the side of the road. We made pictures, hundreds of pictures. Pictures of everything you can think of.
Slept in tiny huts, ate fresh caught lobster, visited an old volcano crater. We swam in a warm sulfur lake; that had an interesting smell.
Saw rice plantations. We were in a boat taxi on one of the rivers, and we drove around in becaks, the local 3-wheel-taxis.
Visited batik stores, saw performances with Wayang Puppets and visited the famous Borobudur and Prambanan temples.
Walked the botanical gardens that featured a waterlily that only flowers one day a year – not the day we were there. This is where the jungle comes in play.

This botanical garden was huge, you could easily get lost, and it was not very well maintained as you sometimes see. It was kept kind of 'au-natural'. One part had huge trees with lianes hanging from the limbs; and of course, I could not resist imitating Tarzan. Climbing the tree, and trying to swing from one tree to the next. Came out of the tree, totally covered in gunk, that covers these lianes, but I had my moment. This is not a very good picture, may be for the better, but it illustrates my craziness.
Back on the ground, I understood that I was not swinging from lianes, but from rattan, you know the stuff they us in furniture. Did Tarzan know? Lianes are rooted in the ground and it would be hard to swing from one tree to the next, especially with one hand, Mr. Tarzan. Oh well, this was my fun in the jungle. Don't laugh, you promised.
Isn't it funny, certain words, smells, stories and sounds spark memories? During the preparation of the recipe of Bamboo Rice Ring with Chicken Tomato Ragu, my Indonesian experience came floating to the surface.
What is Bamboo Rice?
The Bamboo Rice is a short-grain rice that is infused with the chlorophyll, (the green pigment) of the bamboo plant. It is rich in vitamin B. The green color is retained when cooked. The rice does not need any special treatment. The only thing to remember is to cook it in just enough water. If you use more water than you need, the green color is washed out with the excess. It is a sticky rice and thus ideal for a rice ring.
I decided to make a flavorful and colorful ragu; one of our neighbors gave us some of their own-grown tomatoes and we still had some rotisserie chicken left over. I combined that with onion, celery, some tomato puree.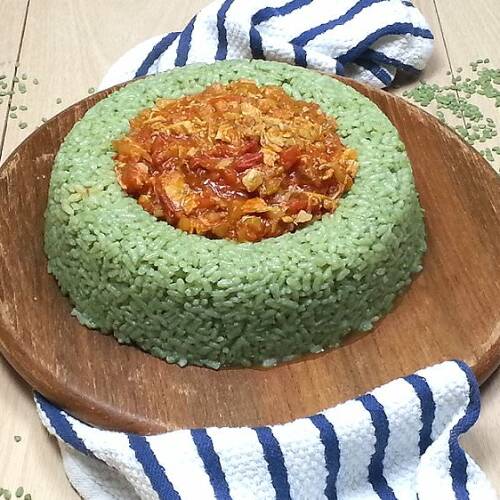 Print Recipe
Bamboo Rice Ring with Chicken Tomato Ragu
Bamboo Rice Ring with Chicken Tomato Ragu is a great example of how to use sticky rice. The color and flavor combination is just one example. There are many more to be made with the wonderful green rice.
Ingredients
1 1/3

cups

Bamboo Rice

salt

4

tomatoes

2

stalks

celery

1

onion

1

bay leaf

1

cup

basil leaves

1

tablespoon

olive oil

1

tablespoon

tomato puree

8

ounces

shredded chicken

salt and pepper
Instructions
Bring 4 cups of water and salt to a boil. Add rice and cook for approx. 12 minutes, covered.

Chop celery, onion fine and cook them gently in the oil until softened and slightly browned.

Core tomatoes and chop them. Peel them if desired.

Add chopped tomatoes, bay leaf, chopped basil leaves, tomato puree and salt and pepper.

Mix and cover and simmer for approx. 20 minutes. Add shredded chicken after about 15 minutes of simmering.

Add a little bit of water if needed. Remove bay leaf.

Oil a rice ring and pack firmly with hot rice. Place plate or dish on rice ring and turn around. Gently take the ring off the rice.

Scoop the warm ragu in the middle of the rice ring and serve immediately.
Nutrition
Calories:
390
kcal
|
Carbohydrates:
57
g
|
Protein:
20
g
|
Fat:
8
g
|
Saturated Fat:
1
g
|
Cholesterol:
42
mg
|
Sodium:
70
mg
|
Potassium:
619
mg
|
Fiber:
3
g
|
Sugar:
5
g
|
Vitamin A:
1475
IU
|
Vitamin C:
21
mg
|
Calcium:
61
mg
|
Iron:
1.8
mg